My first experience in the Sierras was the day after Broken Arrow as we parked at the Onion Valley campgrounds to hike up Kearsarge Pass. Broken Arrow had been difficult in itself, due to spraining my ankle a few days prior. The hike up Kearsarge Pass, although beautiful, was intensely painful as I cried silently to myself with each step forward.
Since then, I've been determined to return, mind you healthy and able to run these magnificent trails. And I have! Mind you, with Juniper it is difficult to go far but I've definitely gotten a taste of the mountains. Merely a taste- but I was thirsty.
After returning from a few weeks in Colorado (blog post in process) I have been itching for another mountainous adventure, preferably closer than a 14 hour drive.
Originally I had planned to camp at Horseshoe meadow over the weekend because I had Saturday off but due to longer work hours and just life- I was unable to go. Le sigh.
I received my schedule that Sunday for the next week and realized I had two days off in a row, a rarity in the service industry. My mind started racing with possible plans. I figured a good Sierras trip would be in order and possibly my first California 14er of Mt Langley. I was checking feverishly for extra permits for Mt Whitney on Thursday, figuring a good nights rest the day before would be wise. However, any movement on the site for that day was scarce.
On Tuesday two permits popped up for the following day, Wednesday, and I immediately reserved them. I then proceeded to call and have them saved in the overnight lock box. I instantly called Vince, best friend and mountain runner extraordinaire and asked if he was down for an adventure.
The answer is always, YES!
All we had to do is get there safely. However, when we both get off work past 11pm- it's questionable.
We arrived at the Sierras Interagency Visitor Center at 3am- after three hours of driving, windows down, coffee, singing loudly to Queen and a good few slaps to the face. We then continued onward to camp at Alabama Hills and finally able to sleep around 4am. We both woke up at 5:30 during the sunrise, bats flying overhead, and eventually rose at 6:30 with much anticipation for the day to come.
At an elevation of 14,501 ft, Mt Whitney is the tallest mountain in California, 11th tallest in United States, and the tallest peak in the Lower 48. Mt Whitney trail is pretty do-able for Southern Californians considering it's only a few hour drive to get to the trail head and has a well maintained trail that leads you straight up the mountain.
Because it is the most frequently climbed mountain peak in the Sierra Nevada, a permit system is in place to minimize impact of backpackers as well as day hikers in the backcountry. Everyone, backpackers and day hikers are required to obtain a permit. The shortest and most popular trail to the peak is a 10.7(17.1 km) trail from Whitney Portal. If climber during the summer to early October you don't normally need any technical climbing equipment but it is necessary in late spring/early summer.
Vince and I began our adventure at 8 am as we jogged away from Whitney portal, grin exposed from cheek to cheek unable to hide our excitement. Within a mile we crossed a flowing creek without a hesitation we both ran through it- a pattern that will quickly form in today's quest.
We joked, we laughed, we gagged at everyone's poop bags we ran by, we took photos and, yes, there was a bit of huffing and puffing running up the trail, but once that started we simply hiked. Today was to be fun. Vince, having Tushars 100k a mere three days from this adventure couldn't risk pushing to hard and I simply was enjoying my best friends company out in some of the most beautiful scenery.
Both of us having never been on this trail were shocked at how well maintained and pretty straightforward it was. Yes, there were two snow crossings, but as long as you don't try to dance across- you were fine. For how difficult one strives to get a permit for this trail, to experience this beauty, we were both shocked at how much trash was left purposely on the side of the trail! COME ON GUYS!
We continued across the 1,329 water crossings and then up the 99 switchbacks to the Trail Crest pass and continued to run along the ridge, laughing and enjoying the smooth ride with the best view.
The last half mile is a rocky, technical climb, straight to the peak where we enjoyed the 360 view along with the other 30 people around us. It wasn't even noon yet and we had reached the summit, shocked at how quickly time flew by and how happy we felt!
The air was crisp yet warm. The clouds looked as though they were marshmellows- soft to the touch and oh so sweet.
We savored the moment, sitting on a rock as I stuffed my face with half my SUPER BURRITO from Trader Joe's. My taste buds exploding with happiness. My stomach- happy at first, not very please during the run down. Instantly feeling nauseous, I slowed my pace until I had to stop to.... burrrrrp.
Burped I did! I few times, hoping it wasn't going to lead to anything more severe I began running again. Instantly feeling better. We chatted with some girls hiking up, watched a nice fatty marmot try to get our attention and off we were. Down the switchbacks.
Down the switchbacks.
Down the switchbacks.
Still... down the switchbacks.
The never ending switchbacks.
And when you thought it was almost over...
It kept going.
Both Vince and I were silent, hoping the end was near as we continued begrudgingly running forward. Finally, what seemed like forever, we were off the switchbacks and on, still technical and wet, but pretty straightforward. The time flew by and before we knew it we were back at the trail head.
As we basked in how incredibly fun our day we hung around collecting ourselves before possibly eating. At the Portal market we ran into some guys we saw on trail and ended up sitting with them for lunch. They had just finished hiking the JMT and coincidentally two of them live within a mile from me... small world! It felt as though time had stopped. Here we were a group of strangers, wide grins chatting as if old friends. Sharing what we have in common- the love of fresh air, the trails and just these beautiful mountains and all that they offer.
We parted ways and Vince and I were off to horseshoe meadow after a quick(not so quick) pit stop into town to find some kind of "fresh" food.
Once camp was set up, (I was definitely very excited to not be sleeping in my car for once) we began making dinner- or should I say I began making dinner.
Dirtbag dinner special: Spaghetti with the only fresh veggies we could find topped with pasta sauce, tahini, nutritional yeast and of course avocado!
If you want to start off somewhere (and on the cheap) go HERE.
We both fell asleep by 8 that night. Vince slept till 8am and I'd like to say it's because of the symphony of spaghetti farts that eased him to sleep, you're welcome. #fartbombs
MT LANGLEY
For people looking to explore the highest elevations available in the contiguous United States, Mt Langley offers a good introduction to thin air at 14,026ft without requiring any technical mountaineering skills. With it being 500 ft shorter than it's neighbor Mt Whitney, Langley's summit provides expansive views, solitude and a deep feeling of accomplishment. Langley is the 9th tallest peak in California and is considered one of the easier 14ers to climb.
The sun's warmth on my face gently bekoned me awake to enjoy the nights end and the new days beginning. Sleep still hoovering I rise and sit outside- enjoying the silence and beauty of my surroundings. As other campers are already packed and heading off to the trail, I begin making coffee as I write in my journal, waiting for sleepy Vince to wake up.
Today's adventure is to run up Mt Langley. Since my first taste of the Sierras, more specifically Cottonwood lakes, I've had a thirst to run both Mt Whitney and Mt Langley on back to back days. Considering this being my last training week for Fatdog 120 what better time to quench that thirst than NOW?
Vince and I began running around 9am. He was only planning on running the first 5-6 miles with me and then turning around before heading to Utah for Tushars 100k skyrunning race.
It was gradual and we were basically gliding our way up. We had ran into some of Vinces friends from LA, chatted and continued forward. By 3 miles there's a fork in the road Old Army Pass to the left and Cottonwood Lakes to the right. Due to snow levels on New Army, it was reccommended I run up Old Army Pass.
We continued running along, pass lakes, exposed rock fields and a few rock lake hoping later we stumbled upon a creek flowing down with snow completely overlapping it with a small tunnel underneath.
It was magical.
At this point Vince turned around and I was on my own.
Yesterday was cool, storm brewing in the distance with a cool breeze and today was far from the same. Continuing forward on an exposed trail, up switchbacks in what seemed like an oven. My breathing was light and my legs were moving. I was able to run every step to the top, passing a few backpackers on the way. Not knowing they would be the last people I'd see until the summit. From Old Army pass I accidentally ran on a trail downward until I realized the trail I was supposed to be on was above me. With the mindset of staying present and happy- I brushed off the extra time and climb I put on myself. If there's a wrong way to go, leave it to Sawna to take it! Because I took the wrong trail, however, I had the opportunity to watch a family of Bighorn sheep run by. I caught a glimpse of the last one running in front of me. I call that a win, thank you very much.
Once I got on the right trail pass New Army pass there's a worn path that makes its way up to a ridge line populated by rock towers. This section is exposed and the sun was wearing on me, with no on in sight, I was lonely and trying to remain happy in the moment. Beyond the towers, lies a berren slope of sandy gravel, yay. The Langely Plateau is much longer than it appears from down at the pass. Follow the massive cairns up the mountain as best as you can as this point, you're high, it's hot and extremely steep. I was hardly pushing, thinking this section was never ending. The option of turning around never crossing my mind when actually I was thinking I had all the time in the world to complete this task- as long as I get home to Juniper tonight!
Above the climb, it "flattens" out for about half a mile until you reach the summit.
The view was electrifying.
After spending some time taking photos and taking in the view, I began descending.
This time I wanted to avoid Old Army Pass and try to go down New Army Pass. Yes, I was fully aware of the class 3 scramble and technical terrain- but by golly I was NOT going to go down the switchbacks of heated doom. No gracias!
I ran the entire way toward the pass, passed the same family of big horn sheep to my right as I danced along the ridge- excited for some new views of Cottonwood lakes.
I ran up to the pass and began jogging down however a few feet down the trail dissapears under a sheet of white carpet. Snow. It's spotty and I was able to shimmy below the trail, seeing foot steps comforted me. However they could've been Chamouns from last Saturdays run (he did the same run). As much as I tried to follow the trail, it inevitably spit me into a chute and I had to go down a class 3 climb that led me to, surprise, more snow. This section was steep.
My breathing was heavy, from fear of heights (shhhh don't tell anyone) and from this being possibly a very dumb decision. But I tied my jacket around my butt (my BOAUSA shorts are not good for 1. wind 2. butt slides down really steep snow chutes that I could possibly hurt myself but trying not to be scared of) and walked onto the snow, deep breath in hoping for the best, and proceeded to glissade/butt slide down then jumped onto the rocks. Few. That wasn't so bad. Not one point (maybe when I was hugging a rock with nothing but a cliff underneath me) did I think I should turn around or think I couldn't do it but I stood there looking up at what I just did feeling pretty confident but at the same time questioning my sanity.
The adventure continued with two long snowfield to cross. I tug my feet in and climbed by way across, going slowly and cautiously until I realized what's the worst to happen? (Other than slipping and sliding straight into the lake) the snow was soft and if I slid, I'm capable of stopping myself. So I quickened my step, annoyed at how long this was taking me and probably looking like a buffoon, across the snowfields and finally onto the trail.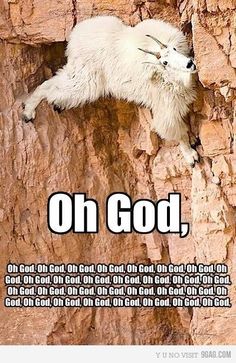 I got on the trail and took a moment to myself.
Inhale, exhale. Inhale, exhale. Repeat
I loop up at New Army pass and remember my confidence and yet still question my sanity or lack there of. It was only a few years ago where I wasn't comfortable running Griffith Park alone then it was the San Gabes or Mt Baldy for that matter and now here I am.
The rest of the run was pretty uneventful. I didn't run into anyone else (because no one was on New Army) until the beginning of the lakes. Cottonwood lakes are beautiful and, yes, I was extremely thankful for new scenery and ALAS! Tree coverage! It's a few miles back to the car and everything was extremely runnable- for that I was grateful.