We sit in the parked car as Tam, Andrew and Rhea all begin to layer up I stuff another chip in my mouth delaying the inevitable- going outside. See, I convinced Tam to visit from the UK, hardly convinced but used the beautiful weather we've been having as an incentive to spend a few days in town. I eat another chip covered in hummus as my gaze continues forward, looking at what? I couldn't tell you. We were in the clouds, a dense white fog left us with zero visibility and a light shower to remind us of the current freezing temperature. It was 32 degrees parked at Vincent Gap. "At first I was afraid, I was petrified" Gloria Gaynor belts out in the background. No, girlfriend, I don't think I will survive, not this weather. Sawna is a sun child.
Tam arrived from London the night before. We had spent 6 beautifully hard days in Costa Rica running the Coastal Challenge, what now seems like another lifetime ago and not just a mere 3 months. She had messaged me about visiting San Diego and had mentioned possibly hanging out. We quickly decided on her visiting for two days, some sunshine and warmth would do her good. What we didn't know was that the 80 degree weather we have been having would immediately disappear once she arrived, she didn't realize she had packed the fog with her. Thank you for that, Tam.
I was determined to make these two days incredible. If not for Tam, for my two days off from the stress of work. The last few weeks of working long hours at a bar has not been ideal, most evening spent coming home and melting into the couch unable to function. I had messaged Andrew, Rhea and Tony and we made fast plans on camping no matter the weather. We considered Horse Shoe Meadows but the weather nixed that immediately, the San Gabes seem to be the only place we'd be able to go.
We all sit in the car, shivering, questioning our decisions. Tony decided to head back to Buckhorn and set up camp, it would be too difficult for Lou, his 14 year old dalmatian in this sort of weather. Thankfully I packed extra warm clothing for this unexpected temperatures. Tam had no idea what I was putting her through as we glance at each other with forced smiles, this will be fun, we reassure each other in a very unconvincing way. I stay positive and say things like "I'd rather be here than sitting at home" "better than working", but at the same time I was questioning my own choices. It was never the question of whether it was safe or not, it wasn't a huge storm we were walking into, but just an uncomfortable situation. After putting on what felt like a million layers we begin our trek up Baden Powell only to stop a few switch backs up and remove 999,999,999 of those layers. Although temps were in the 30's, the air was still and the more we hiked up, the warmer it got, and the more genuine our smiles became. We were deep in the clouds, unable to see around the switchbacks due to the thick fog. Despite the poor visibility and freezing temps we were having a great time! The dogs, Juniper and Lola, were running around, tongues out and chasing each other up and down the mountain as we all talked and enjoyed each others company. About three miles up we noticed the snow and icicles hanging from the trees. A round of a-paws for to the San Gabes for the ins-paw-rational snowy mountain views. Boy was this polar opposite of the 80 degree day I had on this mountain just last week, that day I could've definitely gone for a pupsicle. Get it, get it? Woof.
We made our way to the peak of Baden Powell along with 10 or so PCT hikers. The hikers, hiking from the boarder of Mexico to Canada along the Pacific Crest Trail, were carrying large packs to get them through the 2,650 mile quest, while we were carrying mere small vests. Reaching Baden Powell at 9,399 ft on clear days often grants you a 360 view of the San Gabriel Mountains, however, on a day like today we were lucky to see 5 feet in front of us. Despite the lack of view, I tried to illustrate the views as best as I could to Tam. We all took photos and hung around at the top long enough for some cloud breaks. There were definitely some screams of joy coming from our group.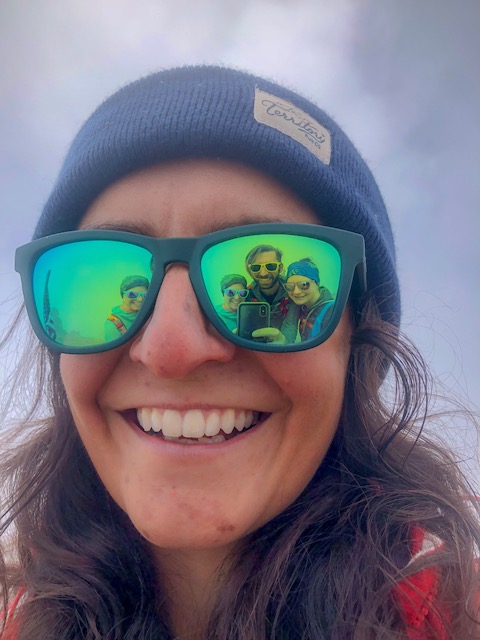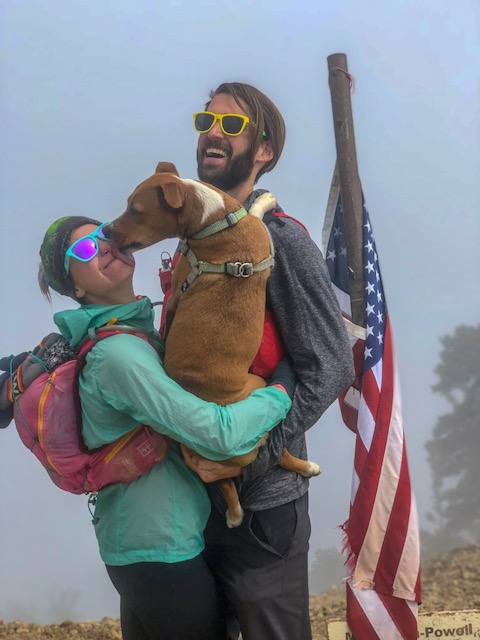 Our run down the mountain was exciting. Oh the joys of running in tights and it inevitably sagging off my hips. Saggy crotch syndrome I like to call running tights. We had spurts of heat and cold as we began our descent, running through flurries of snow, icycles dangling from above, spurts of open views of the desert below and soft moist dirt below our feet. I couldn't help but giggle from happiness. Today was a good day.
Our drive to camp was a mixture of defrosting and delayering from the days adventure. We packed our packs as best we could and headed to post up our campsite. It was a surprise to stumble upon three PCT hikers with a fire going in the big pit, I immediately said hi, attracted to the heat they were creating, and offered the wood I brought as a donation if we could hang out by their fire. They quickly accepted. After setting up our tents, we grabbed our snacks and made friends with Captain America, Butcher, and Jukebox.
The evening was spent making new friends and hanging with old friends. The pups were pooped out and hung by the fire while we enjoyed some beers and eat lots of food. Well I ate a lot of food. After what seemed like hours of talking, we snuggled up into our tents around a whooping 9:30pm. I woke around 3 am, trying to convince myself that I should go back to sleep and that the need to pee wasn't dire, but my bladder rejected my argument. I crawled out of my tent to a soft white carpet, a few inches of snow while snow floated around me. If the need to pee wasn't necessary at that moment I would've spent more time enjoying just being still. It's not everyday in the San Gabes that you get to camp while its snowing. Full of excitement I almost woke Tam to tell her it was snowing, then remembered, she lives in the UK- she see's fog, snow, and rain all the time. She was actually trying to get a vacation from that sorta weather. Surprise, surprise, here we are in sub 30 degree temps in what was supposed to be sunny Southern California.
The morning was spent trying to keep our hands warm all whilst not getting falling snow into our coffee. Our coffee didn't stay very warm too long. That was our cue to pack up and head out.
I wanted to show Tam one last thing before she headed off to what will be sunny San Diego, Strawberry Peak. Oh the beautiful Strawberry Peak, views of the San Gabes and Los Angeles in the distance, but today, barely the trail infront of us was visible. Alas! I made my attempt but mother nature was not in our favor. We climbed and ran back to the car with a rumble in our stomach. We were in need of a hearty lunch, our last stop being my favorite, Cafe Gratitude.
Since her visit, it's been nearly 80 degrees everyday while I've been enjoying it in the discomfort of work. I've surprised myself by waking each day by 6 and going for run in Griffith Park in order for Juniper, and myself, to get some exercise in before a long work day.
T-minus 3 days till I'm on a flight to Seattle and reunited with some of my favorite people while running around ORCAS ISLAND.
I've never been to Orcas when it wasn't in Feb for Rainshadows 50k... the STOKE IS HIGH. Will be in Seattle Sunday evening till Monday night if anyone wants to hang out. Literally, lets go climbing.
Till next time.
Thank you Tam for visiting <3
My unsuccessful attempt to be cool like Andrew:
Ok, Ok, last thing.
Just wanted to wish Tony a happy 30th Birthday. HAPPY HAPPY HAPPY BDAY!
Our adventures wouldn't be the same without him. He somehow knows how to make you smile a bit wider, laugh a bit harder and love way way more. We are all thankful to have you and your pups in our lives! I know Juniper loves me but lets be honest, she'd join your pack in a heartbeat!